Small balcony, garden, terrace or roof terrace?
There's always room for some nice flower bulbs in pots!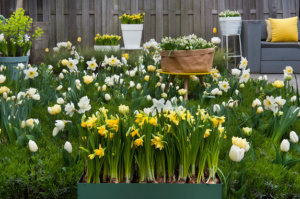 Nowadays, all you need are a few square metres to turn your balcony, garden, terrace or roof terrace into a mini-paradise. Come next spring, pots generously filled with flower bulbs will be putting on a real show. With a few easy tips, you'll have a terrace full of colourful flowers this spring!
But before you run out and buy your pots and flower bulbs, think about a layout for your terrace or balcony. Decide on the location for your flower garden and consider other things you want.
To create a more harmoniously pleasing impression, it's often better to use a number of larger pots than dozens of small ones.
After acquiring your pots, you can start selecting the flower bulbs. To make your terrace or balcony dazzle with colour, you can choose from a wide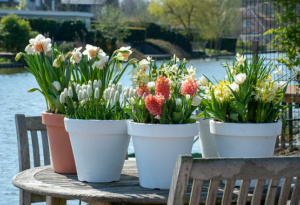 array of spring-flowering bulbs such as tulips, daffodils, hyacinths, grape hyacinths (Muscari) and crocuses.
You can plant your bulbs in many ways. If you want a massive colour explosion, use a single variety of flower bulb. Or plant several varieties of bulbs that bloom one after another – for weeks and weeks of colour!
Flower bulbs will not survive a winter in overly wet soil; to keep their roots healthy, excess water has to be able to drain away. So buy pots with a drainage hole in the bottom, or make a hole yourself. Then fill the pots one-quarter to one-third full with potting compost and place the bulbs at the right depth in the pot (carefully follow the instructions provided on the packaging).
As soon as the first sunbeams start warming up your pots, you can go out and enjoy spring and the bright colours of the bulbs you planted!
Source: iBulb
Published: 06.08.2020