Wax Amaryllis (Hippeastrum) is a stunning flowering plant known for its large, vibrant blooms and unique wax-coated bulbs. This guide aims to provide you with the essential knowledge and techniques to ensure the successful growth and beautiful blossoms of your Wax Amaryllis. Whether you are a seasoned gardener or a beginner, this guide will help you cultivate these magnificent plants with confidence.
Wax Amaryllis: A Fascinating Variety Revealed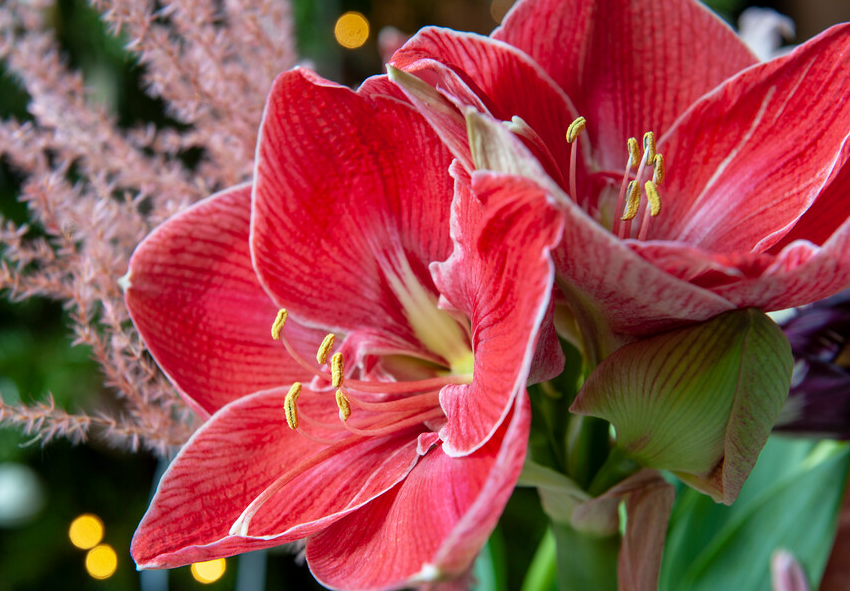 An intriguing variant of the Amaryllis flower is the wax amaryllis. The Wax Amaryllis is a bulb that blooms without soil or water, in contrast to standard amaryllis bulbs that need planting in soil and routine watering. It has become more and more well-liked among gardeners because it is a distinctive and low-maintenance plant.
The Wax Amaryllis bulb has all the moisture and nutrients it requires to grow lovely flowers. It has undergone specific treatment so that it can continue to grow and bloom without soil or water. It's an excellent option for folks who don't have green thumbs or like low-maintenance plants because of this.
Wax Amaryllis bulbs are coated with a thin layer of wax, which not only protects the bulbs but also stores all of the required nutrients and moisture. This wax coating prevents decay and removes the need for watering.
Despite its unconventional growing style, the Wax Amaryllis produces gorgeous blooms in brilliant hues in the same way as regular amaryllis variants do. Large, trumpet-shaped flowers in red, pink, white, or striped variants can be expected.
A Wax Amaryllis is really simple to care for. Simply set the bulb in a well-lit area that is out of direct sunlight and excessive temperatures. Avoid wetting or submerging the bulb. The flower stalk will emerge and grow, eventually revealing beautiful blooms that can last for several weeks.
Delve into the World of Amaryllis in Wax: Species and Their Unique Differences
There are various species of amaryllis in wax, each with its own distinct qualities. Among the most popular species are:
Red Lion: One of the most popular species, Red Lion has big, deep red flowers that will stand out in any room.

Apple Blossom is a favorite with gardeners and florists alike, because to its exquisite pink and white blossoms.

Double Dream: This plant has beautiful double-petaled blooms in pink and white.

Christmas Gift: With its beautiful red and white blossoms, this species is a popular option for holiday decor, as the name suggests.
Regardless of the species, the amaryllis in wax is sure to impress with its vivid colors and unusual texture.
Care Features: How to Lovingly Care for These Beauties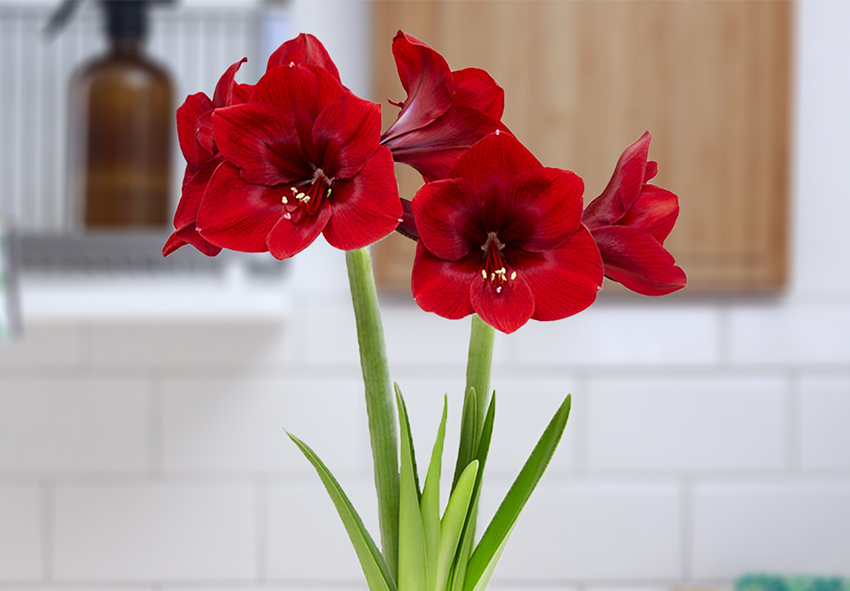 In order to care for your amaryllis in wax, it's important to water the plant sparingly, provide it with plenty of bright, indirect sunlight, and keep it in a warm location. Fertilizing every 2-3 weeks during the growing season can also promote healthy growth. Additionally, pruning dead or damaged leaves and flowering stems can help maintain the plant's health.
Planting the Amaryllis in Wax: Step-by-Step Guide to Success
Amaryllis planting in wax is simple and just involves a few easy procedures. For the best outcomes, adhere to following guidelines:
Pick a pot that is just a little bit bigger than the bulb you intend to plant.

Add the wax medium to the container, allowing room at the top for the bulb to be inserted.

Arrange the bulb so that it is stable and centered on top of the wax.

Lightly mist the bulb with water, letting the wax soak up the moisture.

Put the container in a warm, sunny spot where it will get enough of sunshine.
Care of the Amaryllis in Wax: Meeting Their Specific Needs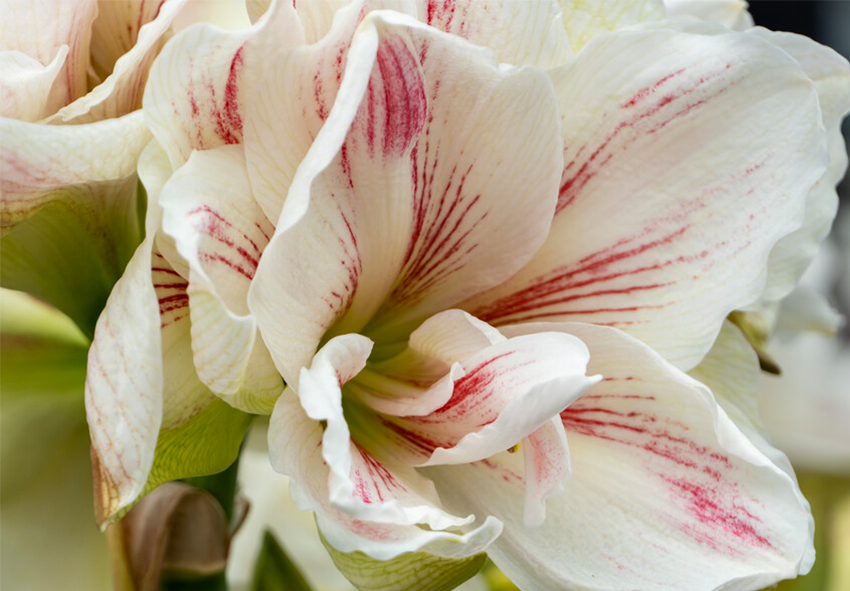 The amaryllis in wax is a low-maintenance plant, but it does have a few specific needs that must be met in order for it to thrive. Here are some tips for caring for your amaryllis in wax:
Water sparingly: Overwatering can lead to root rot, so it's important to only water the plant when the wax has completely dried out.

Provide plenty of light: The amaryllis in wax requires bright, indirect sunlight in order to grow and bloom.

Keep the plant warm: The ideal temperature for the amaryllis in wax is between 60-75°F.

Fertilize occasionally: Use a balanced fertilizer every 2-3 weeks during the growing season to promote healthy growth.
Pruning Mastery: Techniques for Healthy Growth
Pruning your amaryllis in wax is important for maintaining the plant's health and encouraging new growth. Remove any dead or damaged leaves as soon as you notice them. Trim back the flowering stem once it has finished blooming, leaving about 1 inch of the stem above the bulb. Cut back the leaves to about 2 inches above the bulb once they begin to yellow and wither.
Propagation of the Amaryllis in Wax: Unlocking the Secrets of Reproduction
The propagation of wax amaryllis (Hippeastrum) is typically done by using bulbs rather than seeds. Wax amaryllis bulbs produce flowers without needing to be planted in soil or watered. However, if you wish to propagate wax amaryllis through bulb division, here's a step-by-step guide:
Wax amaryllis bulbs need a period of dormancy to prepare for propagation. Place the bulb in a cool, dark, and dry location for approximately 8 to 12 weeks. The temperature should be around 50-55°F (10-13°C). After the dormant period, carefully remove the bulb from its storage location. Gently brush off any excess soil or peat moss around the bulb, revealing the individual bulbs or bulblets.
Locate the bulblets or small offsets that have formed around the main bulb. Use a sharp and sterilized knife or garden shears to carefully separate them from the parent bulb. Ensure that each bulblet has its own roots attached. Dust the cut surfaces of the bulbs and bulblets with powdered fungicide or charcoal to prevent rot or infections.
Prepare a well-draining potting mix suitable for bulbs. Plant each bulblet in an individual pot or together in a larger container, burying them partially with the upper one-third exposed. Ensure that the roots are placed in the potting mix.
Wintering the Amaryllis in Wax: Protection During the Cold Months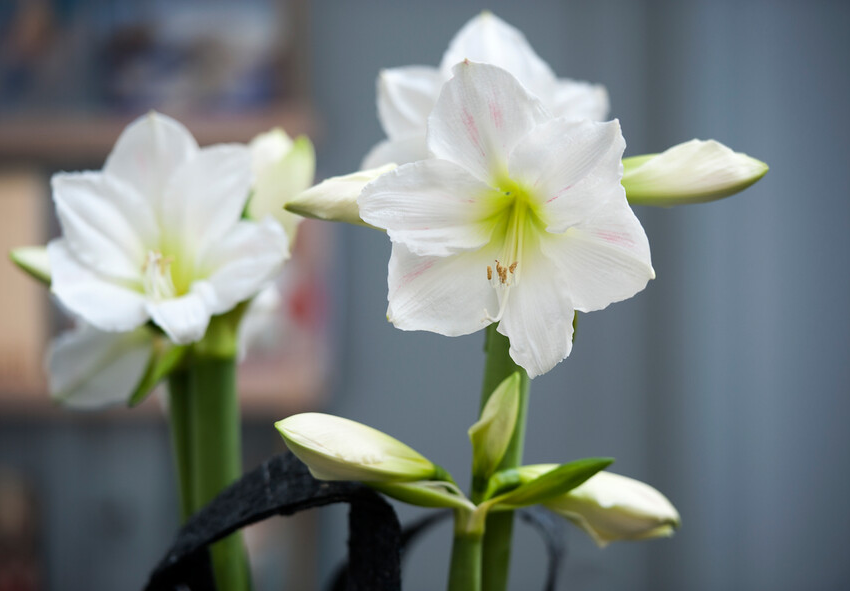 Once the leaves have withered completely, carefully remove the bulb from the pot. Clean off any soil or remaining roots and let the bulb dry for a few days. Afterward, store the bulb in a cool, dark, and dry place, such as a basement or a refrigerator, with a temperature between 40-50°F (4-10°C). You can place the bulb in a paper bag or wrap it in dry peat moss or newspaper to prevent it from drying out.
Periodically check on the bulb during its dormant period to make sure it remains healthy. Discard any bulbs showing signs of rot or disease. In late fall or early winter, around 8-12 weeks before you want the bulb to bloom again, remove the bulb from storage. Inspect it for any signs of damage or disease. If the bulb looks healthy, plant it in a pot with well-draining soil, leaving the top third of the bulb exposed. Water the bulb lightly to initiate growth.
Flowering Time: Discover the Moment When the Amaryllis in Wax Unfolds Its Splendor
The amaryllis in wax typically blooms in the winter months, and the flowering time can vary depending on the species and growing conditions. Most species will bloom within 6-10 weeks of planting, and the blooms can last for several weeks.
Everything You Need: Essential Accessories for Optimal Cultivation
When it comes to optimal cultivation, having the right accessories can make a significant difference in the success of your endeavor. Here are some essential accessories you may need for various types of cultivation:
Trimming Tools: Trimming is an important aspect of cultivation, particularly during the harvesting stage. Trimming scissors or shears with sharp, clean blades are essential for trimming leaves, stems, and buds with precision.

Pots and Containers: Choose the right pots and containers based on the size of your plants and cultivation method. Fabric pots are popular for their excellent drainage and aeration, while plastic or ceramic pots can be suitable for specific purposes.

Pest and Disease Control: To prevent and treat pests and diseases, you may need insecticides, fungicides, or biological controls like beneficial insects. Make sure to choose options that are safe for your plants and align with your cultivation goals.

Safety Equipment: Safety should always be a priority. Essential safety equipment includes gloves, goggles, masks, and lab coats to protect yourself from potential hazards associated with handling chemicals or operating equipment.
Choosing the Right Soil for the Amaryllis in Wax: Important Considerations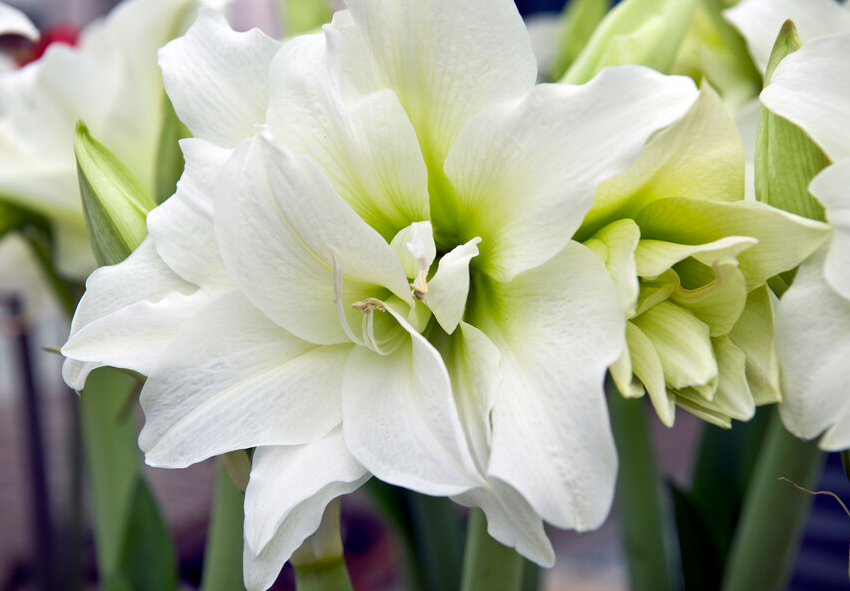 Since the amaryllis in wax doesn't require soil, it's important to choose the right wax medium for optimal growth. Look for a wax medium that is specifically designed for growing amaryllis in wax, and avoid using traditional potting soil.
The Best Location for Planting the Amaryllis in Wax: Light, Temperature, and Humidity
When choosing a location to plant your amaryllis in wax, it's important to consider the plant's specific needs. Look for a location that receives bright, indirect sunlight and has a temperature between 60-75°F. Avoid placing the plant in a drafty or humid location.
Nutrient Management for Your Amaryllis in Wax: Best Fertilizer Practices
The amaryllis in wax requires a balanced fertilizer every 2-3 weeks during the growing season to promote healthy growth. Look for a fertilizer that is specifically designed for amaryllis in wax, and follow the instructions on the label for best results.
Sources of Supply: Where to Find Top Quality Amaryllis in Wax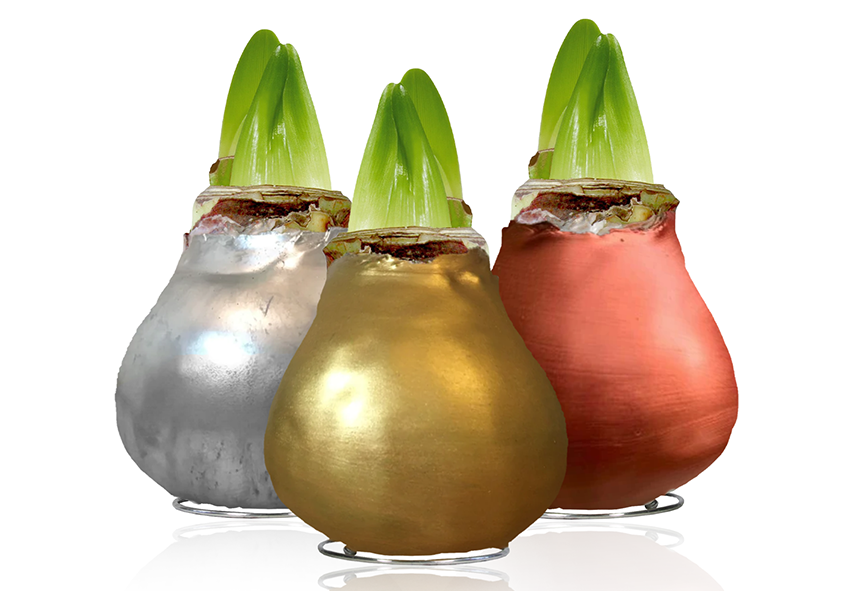 Visit your local garden centers or nurseries that specialize in flowering bulbs. They often carry wax amaryllis bulbs during the holiday season or in the early winter months. This allows you to inspect the bulbs in person and choose the ones that look healthy and well-cared for.
Many online retailers specialize in selling flower bulbs and plants. Search for reputable online stores that offer wax amaryllis bulbs. Look for customer reviews and ratings to ensure the quality and reliability of the seller. 
Local florists may carry wax amaryllis during the holiday season. They might have arrangements with wax amaryllis already grown and waxed, or they can order bulbs for you. Talk to your florist and inquire about the availability of wax amaryllis or their ability to source them for you.
Look for specialty bulb suppliers who focus on rare or unique flower bulbs. These suppliers often offer a wide selection of high-quality bulbs, including wax amaryllis. They may have an online presence or a physical store that you can visit.
Attend flower shows, exhibitions, or gardening events in your area. These events often have vendors selling various types of flowers and bulbs, including wax amaryllis. It provides an opportunity to see different varieties and talk to experts who can guide you in selecting the best quality bulbs.
Remember to consider factors such as bulb size, condition, and any specific variety or color preferences you may have. Choose bulbs that are firm, healthy-looking, and free from any signs of damage or disease. Proper care and handling after purchase will also contribute to the success of your wax amaryllis.
Frequently Asked Questions (FAQs) about Amaryllis in Wax
1. What is Amaryllis in Wax, and why is it unique?
Amaryllis in Wax refers to a special method of growing Amaryllis bulbs. It involves placing the bulb in a decorative wax layer, allowing it to grow and bloom without soil. This unique approach not only enhances the aesthetic appeal of the plant but also eliminates the need for traditional potting soil. Amaryllis in Wax is an excellent choice for those looking to showcase their plants in a more modern and artistic way, making it a captivating addition to any indoor space.
2. How should I care for Amaryllis in Wax?
Caring for Amaryllis in Wax is relatively simple. Place the wax-covered bulb in a location with bright, indirect sunlight and maintain a consistent temperature between 65-75°F (18-24°C). Water sparingly; only add a small amount of water to the wax base to keep it moist but not saturated. Avoid overwatering, as excess moisture can lead to bulb rot. Once the flower blooms, you can prolong its beauty by trimming any withered flowers or leaves and continue to provide it with adequate light and care.
3. How do I replant Amaryllis in Wax after it blooms?
After your Amaryllis in Wax has finished flowering, you can transition it to a traditional pot with soil to encourage long-term growth. Gently remove the wax from the bulb, taking care not to damage the roots. Plant the bulb in a well-draining potting mix with one-third of the bulb exposed above the soil surface. Water the plant thoroughly and place it in a sunny location. Continue to care for it as you would with any other Amaryllis, providing regular water, fertilization, and occasional pruning.
4. Can I order Holland Amaryllis in Wax from your online store?
Yes, you can! Our online store offers a wide selection of Amaryllis in Wax plants, including different varieties and colors. We take pride in providing top-quality plants that are carefully cultivated and shipped with care to ensure they reach you in perfect condition. Visit our online store to explore our collection and place your order for a delightful addition to your home or garden.
5. When should I plant my Amaryllis in Wax for optimal flowering?
Amaryllis in Wax is an excellent year-round houseplant, but if you're looking to enjoy its vibrant blooms, it's best to plant it a few months before you want it to flower. Plant it in late summer or early fall for winter blooms, or in early spring for a summer flowering display. Keep in mind that it may take a few weeks for the flower stalk to emerge and bloom after planting, so plan accordingly for the desired flowering time.
Published: 09.07.2023